Our Value Exchange Dynamic
At the heart of Ethos' work platform is our peer-to-peer, narrative based system which we call the Value Exchange Dynamic.
What is the Value Exchange Dynamic?
The Value Exchange is an open and dynamic conversation through which the Ethos work community and an individual unpick what "work" means for each individual.  We document the value each individual strives to deliver: social, environmental and economic, and importantly, which stakeholders, outcomes, deliverables and responsibilities will be involved. This documented conversation captures a person's work journey with Ethos and external stakeholders and is the foundation for the valuable outcomes that we produce together.
How does it work?
Of course the individuals side of the story (aspirations, dull-but worthy, social value etc.) are just one side of the story.  Who pays the bills? Which compromises need to be developed? How will each individual's journey develop. Our work process is untraditional. Experimentation and exploration are at the heart of our approach to work. When we meet new people (whether a volunteer, employee or contractor) we engage in informal conversations in order to understand each other's 'why' – our purposes, motivations and missions as people. This allows us to mutually understand where most value will be uncovered in the community (the Value Exchange itself – think of a peer to peer online exchange of social, environmental and economic value!).
What's included?
Some key components of the Value Exchange include:
Your "Why" – a chance to explore purpose and meaning iteratively through the world of work. A chance to define an individual's "mission" in the form of "What change do you want to see in the world?"
Valuable Outcomes – what valuable outcomes might you produce and how can we achieve them together?
How will you help the Work, Living and Wellbeing of others in the Ethos community? – for example, you could volunteer to be a wellbeing mentor for others or get involved in organising our social events.
What value will Ethos deliver to you (financial, personal, other) ?
Value Recognition Narrative – this is a recurring event where your peers provide a narrative regarding what it has been like working with you, focusing on the value that you have been working to deliver, thereby allowing your journey to become a very rich data-set of narratives, projects, outcomes and deliverables.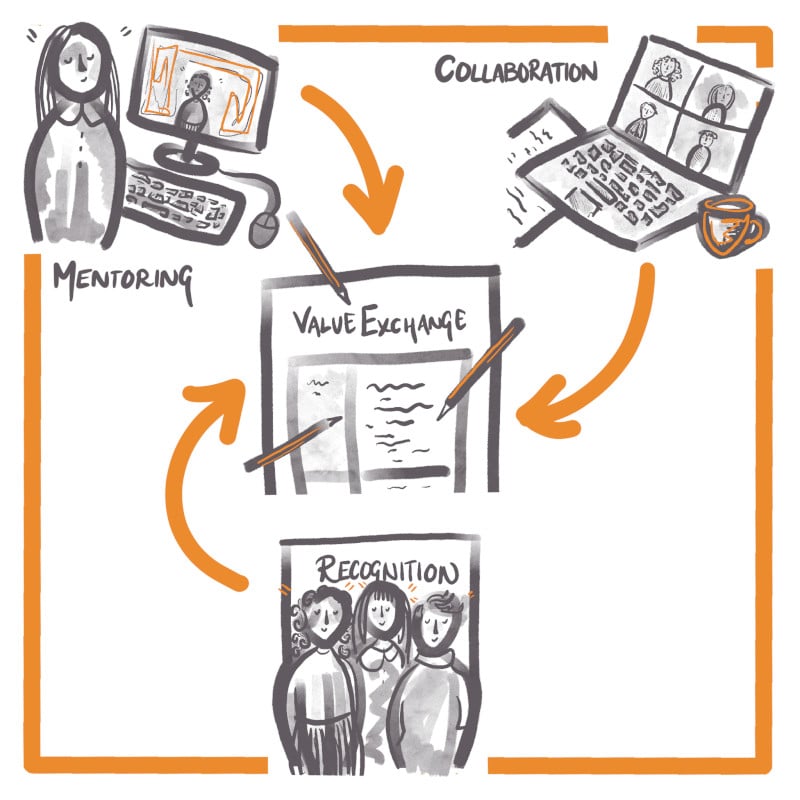 Diagram of Ethos Value Exchange Dynamic process by Sarah Fay, Young Leader