The Value Exchange Dynamic
We've been developing, practising and learning a narrative based approach to 'work' since 1999. Based on our central belief that the world can only be improved by people and their stories, we enable them to embark on a journey which can lead to better understanding and empowerment around their own context (who am I, what change is needed, where am I headed, and why is this important to me?). This leads to a more empowered approach to personal change on their work and life journey.  Through this system we encourage a lot of thought around social value, meaning and purpose as central to an individual's understanding. 
Are you perhaps only one Value Exchange away from your perfect one life balance?
Having experimented on ourselves, our employees, our volunteers and clients for many years, we are excited now to be able to offer anyone value exchange. It's completely free to get going!
What is the Value Exchange Dynamic?
The Value Exchange Dynamic is a facilitated and recurring discussion between an individual and all elements of their work.  By capturing a narrative of the value each individual strives to deliver: social, environmental and economic, and importantly, which stakeholders, outcomes, deliverables and responsibilities will be involved in undertaking this work, the narrative capture becomes their personal commitment to which they will deliver their desired valuable outcomes.  
What is Work?
It is important to be clear that when we refer to "work" we are referring to it in the widest sense. This includes an individual's relationships with anyone who employs them in any formal or informal sense, any volunteering they choose to engage with, any projects they are contributing to, basically anything that has a pull on time and effort for an individual can be included.  We would include being a parent or carer in our definition of work. Not everything of value has to have a price!!  This has become central to our understanding of how to value social and environmental improvement. 
The Benefits of Value Exchange
Why bother?  In a world overloaded with information we are increasingly running to stand still.  We have become the subjects of digital masters who offer endless streams of click-candy, advertising, interruptions and myriad  products and services. Work is no different.  We are so busy. Value Exchange offers you the rare opportunity to stand back, take a breath, have a supported conversation with others. For once you can be your whole self and put YOU in the middle.  You do not have to inherit your identity from a social or cultural norm, a job title, peer group or even the items that surround you!  
How does it work?
Value Exchange – Now and Looking forward
It starts with the individual completing a "Value Exchange". This will initially be a supported activity, but once mastered can be led by the individual. The process will always need the individual to be supported by their own group of coaches and mentors including work and wellbeing mentors. 
You get to choose everything. It is your responsibility to ensure you keep producing value exchange and recognition and keep your mentors working with you.
Some key components of the Value Exchange include:
Your Story – How have you got to this point? Your work, your life, key experiences that have influenced where you are today.

Your "Why" – a chance to explore purpose and meaning iteratively through the lens of work. A chance to define your purpose in the form of:  "What change do you want to see in the world?"

Valuable Outcomes – what valuable outcomes might you lead or contribute to the delivery of and who else needs to be engaged to achieve a positive outcome?

Identification of key stakeholders and mentors to enable the work to be done.

What value will you, the individual, derive from the Commons? This is focussed on non-financial value. 

Personal Financial requirements and a clear articulation of where any finances will come from to meet your requirements. 

Who will support you? Identifying Work/Wellbeing mentors and wider social network.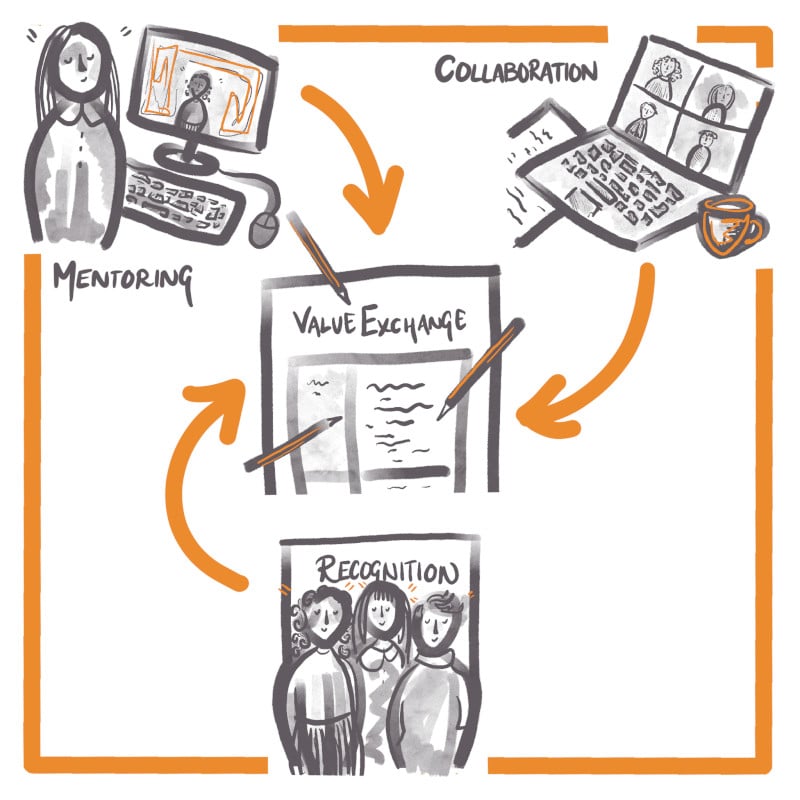 Diagram of Ethos Value Exchange Dynamic process by Sarah Fay, Young Leader
What others have said
"We all have an equal stake in the organisation, and individual contributions are recognised through "value exchanges" that allow the flexibility to both work and contribute as well as balance other areas of our lives too….take this opportunity to think differently about working and living well, and yes some play! could be the way forward." Gavin Thomas, former President, Police Superintendents Association
" I feel incredibly grateful to work with an organisation that encourages me to do what is best for me, whatever that might be and I'm excited for what's next. This is the power of Value Exchange and it is truly life-changing (not a plug, just a fact!)" – Charlotte Kinloch, Young Leader Graduate
"Looking for a more healthy work life balance is a good thing, there is always another way. I needed to step back and give myself permission to do something a little radical and completely different and put my "life work" balance first…The focus is on the individual, their skills and what they can bring to a Work Live Well environment where value exchange is key." – Linda Wall, Retired Police Detective Chief Inspector