Around 700,000 high street shops, gyms and other units are now eligible for the Government's Restart Grants under its £5bn fund to help High Street recover from Covid announced ahead of the budget, March 2021*.
Nevertheless, retail lobby groups are pushing for still further reliefs on business rates, indicating a lack of confidence in the outlook for high street as we exit the lockdown.
As a professional with over 20 years in place management, I believe huge opportunities exist for economic development, growth and place development but I and my fellow Place Managers need the tools to make this happen.
In his 2018/19 High Street Report, Sir John Timpson identified empty property, and the difficulty managers face with managing them, as an underlying weakness contributing to accelerated decline:
"Empty shops can be depressing eyesores that drag down shopping areas. It can be hard for local stakeholders to know who owns these properties…….Local authorities should use their initiative to encourage landlords and tenants to think innovatively about how to use empty properties. If a deal can't be struck at the market rent, special terms should be offered to community businesses or other traders with social purpose…."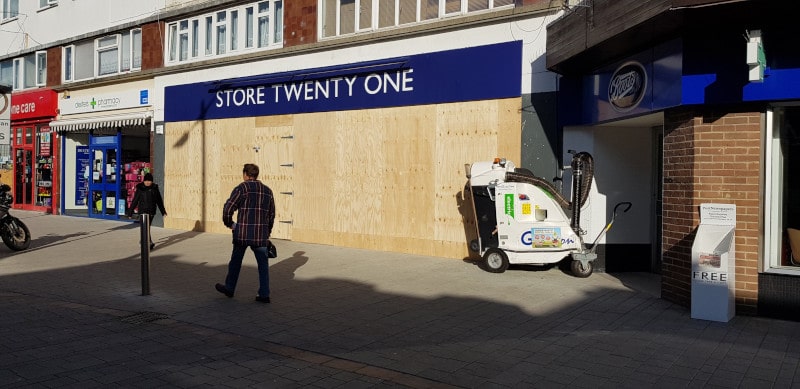 Speaking more recently on the BBC R4 Today programme, Sir John said of the government's plans for a post-Covid high street recovery fund;
"There's a lot of money needed in the centres of local towns – not just in the shops but the community hubs that people need to go to. That's what Local Authorities should be investing in. People need that social contact. A lot of our shopping centres were designed in the 60's – 60 years later we have got to look again and design around people not just shops"
I agree. Although we may be on the cusp of the "Smart City", in reality there is a huge amount to do in urban centres from homelessness, drugs, crime, poverty, vandalism – often linked to derelict buildings. All these issues need to be tackled and hopefully eradicated. However, they are complex and need multiple stakeholders to coordinate their activities and focus on the solutions. The information required has been hard to come by – locked up in databases which are difficult to acquire such as Land Registry, and Planning or slow to update such as the Valuations register. It shouldn't be this hard to find out who owns a commercial property on the high street and actually communicate with them to, to gain access and look around to see if it is suitable for a new business, community centre, arts centre or meanwhile space.
Thankfully, there is now technology which can help place managers collect the information they need to make all the right decisions about empty properties. The Noggin App is making a significant contribution in localities such as Horsham and Chichester. It has recently been adopted by the Isle of Wight Heritage Action Zone to help rebuild the Island's historic capital, Newport.
This innovative Property Application enables a commercial property register to be kept updated locally using simple to use mobile phone technologies. It is already helping early adopters like the Isle of Wight Heritage to identify empty properties in a way that is easily updated and accurate. Critically, it helps to identify and track the people or organisations responsible for them so that interested parties can talk to them and get them occupied.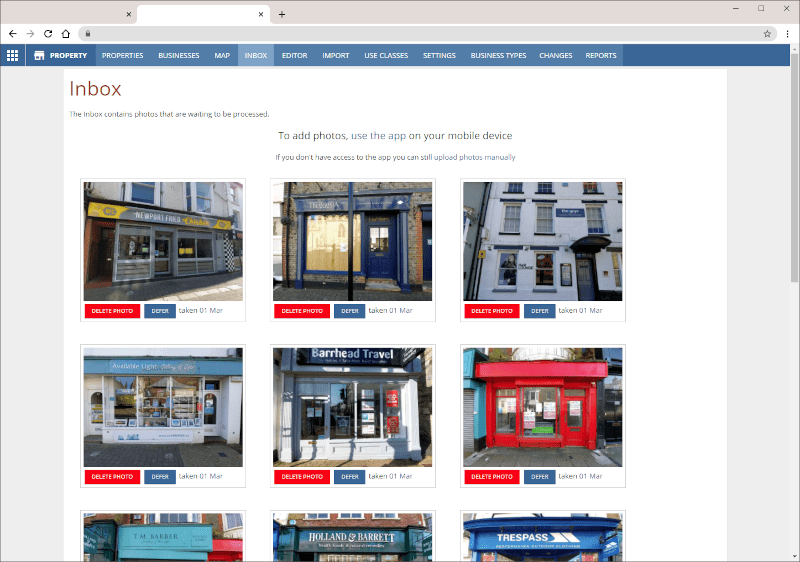 Noggin Property App captures on-street observations by mobile phone. This creates a register of empty properties to be maintained by the local community.
An Empty Property Register on its own is of limited benefit. Without ongoing management and maintenance, it will be quickly out of date. It requires the collection of data of all commercial properties in order to obtain an empty property register. Key to its success will be accuracy and timeliness. This will help ensure a shorter period of time a property stands empty. Communities have a vested interest in turning over vacant properties and owners want to keep their premises occupied so it's in everyone's interest to find a solution to meet the challenge.
One year on from the first lockdown, the number of empty commercial units in centres and high streets up and down the country are rapidly on the increase as the impacts of Covid-19, lockdowns and restrictions bite. It's time that those responsible for place making can be given the power to support places to rebuild – not just by helping businesses have been diversifying, pivoting, spinning plates and juggling their costs; but by unleashing pent up needs in communities to define and recreate their own spaces. We believe that we are developing the right tools and have the skills and knowledge to tackle this ambitious task.
Noggin Property App has potential to:
Identify empty properties
Ensure this information is easily updated and as accurate as possible
Identify parties responsible for empty properties such as landlords and managing agents enabling stakeholders to engage with them to develop properties and get them occupied.
Understand and monitor the changes of properties in town and city centres
Ensure occupancy information is accessible to key stakeholders in order for them to develop policies, plans and initiatives for the regeneration, transition and ongoing
management town and city centres
Develop a nationally recognised approach and methodology to record commercial properties and in particular, empty units.
For more information on the Noggin Hub and Property App please visit https://www.nogginhub.com/
About the author, Toyubur Rahman FIPM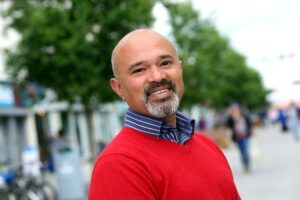 Toyubur is a passionate professional and an industry expert in Place Management, urban regeneration, town planning, partnership development, business improvement districts and evening economy; with a proven track record of successfully implementing projects to improve town centres. He is currently practicing Economic Development, Growth and Place in Chichester and was recently appointed to the High Street Task Force as expert advisor and a Fellow of the Institute of Place Management.
Noggin Property App is an Ethos Place project
Reference sources
*source
https://www.bbc.co.uk/news/business-56227339