The past few weeks have been challenging for all of us, I'm sure, and the next months potentially pose even greater challenges as efforts focus on re-starting the economy, including our town centres.
Nobody knows quite how we will re-emerge – what this 'new normal' will look like. We must all work in unusual, unprecedented and innovative ways to do the very best we can for ourselves and our communities.
With most normal activities suspended, we at Ethos have spent a great deal of time rebuilding and preparing our services for post-Covid operations. Since we don't know quite what that will look like, our emphasis has been on creativity and flexibility, in other words being ready to support new ideas.
PARKING
We've rebuilt our parking system to meet new needs. It's clear that parking will become more challenging. Revenue will be constrained by lower visitor numbers, key worker discounts and flexible operating to allow the re-use of spaces under social distancing guidelines.
To enable this, we've made sure that our data is as close to real-time as possible. We can now show – within a few seconds – whether bays are being used, and how many vehicles are present. This includes on-street and off-street parking.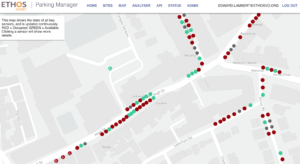 We've added reports to emphasise per-bay utilisation. With fewer on-street spaces available, it's important that those remaining bays are used more efficiently with a quick turnover. We can also show total visits by car park alongside occupancy, so operators can measure both the turnover and utilisation of each car park, and adjust their plans to suit.
We are also introducing a tariff and capacity management.. This means Ethos Parking services can be used to control data flowing elsewhere. A single point for managing parking tariffs that is rapidly shared with third-party aggregators, phone payment companies and public information websites quickly and effectively. This enables us to model future parking income based on tariff changes and forecast demand – a sort of What-If solver to get the best revenue possible from all parking assets.
With residents realising the benefits of cleaner air, we are ensuring air quality and electric vehicle charging and green transport are key parts of our efforts, so no town should revert to previous levels of pollution.
Finally, the flexibility we've now built into our parking system means we are ready to support new ideas now emerging from town centres: Dynamic pricing and parking restrictions, electronic enforcement, real-time routing and other innovative approaches being developed.
BUSES
Earlier this year, we installed our first occupancy and wheelchair space detectors for bus operators in the UK, to help vulnerable users and support the industry's move towards open data. At the time, we had no idea that occupancy on buses would become such an urgent issue!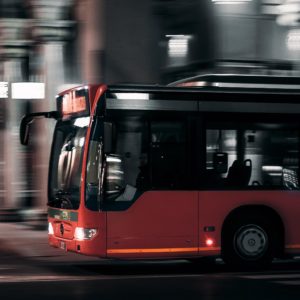 Bus operators are now in a crucially delicate position, needing to maintain services and income whilst protecting their staff and customers with drastically reduced capacity. Unlike before, demand is unpredictable as government advice changes. Operators are in unprecedented conditions and real-time data is vital.
To support this, we've accelerated development of our real-time bus occupancy system. We can now show operators – in real-time – how many people are on the bus and if that occupancy is reaching capacity for adequate social distancing.
We have also developed demand-led dashboards so operators can see which stops and routes are under heaviest demand, and adjust schedules accordingly.
To help bus operators, we are working with our suppliers to reduce the cost of installation as much as possible. This has meant, for instance, removing redundant internet and power connections, GPS and additional features that – whilst useful – are not critical at this time.
To ensure this data is spread as widely as possible, we are working with bus app providers and other service providers to provide real-time occupancy indicators to the public, via their existing apps, websites, route planners and public display kiosks.
FOOTFALL
Undoubtedly the meaning of footfall has changed drastically for our town centres. No longer are we striving for busy streets. Now, it's about the most efficient utilisation of those streets: as busy as we can manage, but not too much.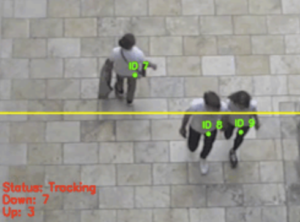 Measuring footfall alone is no longer enough. Town Centre Managers are becoming crowd managers, ensuring queues are orderly and congestion is avoided. For this, we are reviewing our approaches to collecting footfall data.
We are now upgrading our infrastructure to include hi-resolution video cameras, known as IP cameras, in key high street locations, and cover wider areas than traditional footfall counters. These are positioned high above the street, always pointing down to avoid individuals being recognised, and allow us to collect new kinds of data to support post-Covid place management.
We are developing software to use these cameras to perform a variety of counting, density and social distancing measurements in real-time. We also hope to use this software to identify pinch-points – areas where congestion is forming so we can immediately alert town centre teams to quickly remediate.
As a company vested in open data principles, we are also looking at opening these feeds out to software that can be used for further counting and detection activities, such as traffic and cycle counting. We are creating best practice documentation, contracts and procedures to support this in a way that does not pose GDPR challenges.
REPORTING
We will continue to strengthen our reporting capabilities. Alongside our analytics partners, Noggin, we have been producing daily Covid-19 reports to town centre managers, police and other bodies measuring the effects of the coronavirus on the high street, and would be happy to show you an example of these to suit your local needs.
We have also used our expertise to provide data and resources to DfT, who are briefing the government daily on various important performance indicators. We are opening up our data to the public and academia wherever possible to help create detailed forecasts and analyses, and we are supporting regional and national organisations in their efforts to plan recovery strategies.
SOCIAL CARE
As part of our work with bus companies and vulnerable groups (mentioned earlier) we were already developing an in-home display to help users plan journeys via public transport. We recognise that these same groups are most likely to be affected by continued lockdowns, and will be unable to see friends and family members for some time to come.
Isolation has always been a concern of adult public health, and it has taken on a new, substantial meaning with Covid-19.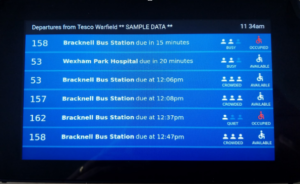 We are now modifying these in-home displays to allow family members to share messages and images with their loved ones still in isolation. These users are unlikely to have smartphones or Internet access, and ensuring the devices are easy-to-use remains a key concern, so we're working on ways to make this as intuitive and meaningful as possible.
The effects of the Coronavirus will undoubtedly be felt for many years to come, and without a doubt there are some extraordinary challenges and hurdles still facing us all. As a social entrepreneurial organisation, our goal is to support communities with the best possible resources available for growth and prosperity, and never before has this been so important.
Our door is always open – from a safe distance of course – and we're in a strong position to move quickly & support you. Please don't hesitate to drop us a line if we can help in any way –  [email protected]