Photo by Hannah Busing on Unsplash
Content warning – this post discusses suicidal feelings
Mental health is a massive part of everyone's life and impacts us all in different ways. All of our journeys are individual. They build us and they break us. They take us in all sorts of directions and neither are the same. This is my journey and how I found my why:
Born in Southwest Scotland I was raised in a middle class background with more than I appreciated. I was diagnosed with Asperger's syndrome at a young age as I couldn't connect with others and demonstrated a lack of ability to cope with change. I found it hard to make friends in school and couldn't handle things as simple as the quiet after a party or the move from nursery to primary school. At age 7 my parents divorced and I moved with my mum to my grandparents' house. I was devastated but got over it eventually. We lived with my grandparents for a year which felt as if we were just away on a long holiday.
Then, at age 9 I experienced something I had never felt before. My mum bought her first ever house which was so exciting. Our new house was great but my young, neurodivergent brain couldn't handle the change. When trying to describe these feelings later on, I would say I knew I had a soul because it felt like something was sucking it away – I was falling into an inescapable void. Little did I know thousands suffer from the same problems I did. Because of this I kept how I felt to myself and that was my first mistake.
I remember lying in bed with my mind racing at a million miles-per-hour. Intrusive thoughts would come to me with seemingly no cohesion or warning. This constant noise inside my head was intense enough to drive me to tear out my own hair – quite literally. I can't begin to empathise how my Mum must have felt when she found me.
Although we didn't have much money at the time she got me a Psychiatrist and this is where I found out I was suffering with depression and anxiety. With the fast acting response from my mum and immediate correspondence from the psychiatrist, I got the help I desperately needed. He helped break down the depression and anxiety I was suffering from and taught me how to cope with panic attacks. To me, mental health problems are like malignant growths. If not dealt with, they can grow to a point where they cannot be contained. If that happens they can either leave you with horrendous problems for the rest of your life or worse.
This was a very valuable experience for me to have at a young age. I was able to address the issues on a level that as a child, made it easier for me to cope with my mental health. I won't go into too much detail about what methods I was taught as this piece is not intended to be a substitute for therapy. It is important to recognise that everyone suffers in different ways, and also find other ways to cope. What worked for me may not work for you. That being said, I was able to move on with my life throughout school, without having too much of a struggle.
Growing up with this problem I learnt how to deal with it and more. I began to see those around me suffering with similar problems and I made it my goal to ensure others didn't suffer from the same problems I did. Although it is openly talked about nowadays; I remember that mental health wasn't always taken as seriously as it is today.
Having followed the guidance of the psychiatrists, I went 10 years without suffering any mental health problems apart from the average teenageers angst and heartbreak. When I was 19 however this all changed and I went through what was one of the worst year of my life.
When I started at the Edinburgh College of art, I was faced with a different set of stressors that slowly began to trigger my depression and anxiety. I was living in student accomodation that had damp and a window that never received any natural sunlight. Back home, my mum redecorated and got a dog. It had been so long since I had to cope with changes this big and I had either forgotten my coping mechanisms or they didn't work anymore. I began resorting to more aggressive solutions such as breaking up with my girlfriend who was suffering from the exact same problems, thinking that would somehow help.
During this year of mental stagnation I felt adrift and rudderless. The only thing that kept me anchored was my friend Robert who was a childhood friend. He would hang out with me most nights online, keeping me sane and distracted. Doing this provided me with an escape but the times where I was left with my own thoughts were the worst. I would have panic attacks which I tried to fill with as much noise as possible. For this reason I never slept before 3am. Instead, I would often go to Roberts flat after playing video games through the night to avoid sleeping. That whole year at university was the worst year of my life and I knew I needed to try and fix it but I didn't know how to start. It was then, when I was at my worst, that I heard about Theo.
Theo Brennan Hulme was this amazing guy from Stoke-on-Trent that I met at a festival in 2014. He reminded me a lot of myself. He was this incredibly nice guy with aspergers who was always trying to make people laugh and put others before himself. He was one of those incredibly genuine and gentle people. We somehow got our hands on cider at this festival and got incredibly drunk. I still remember carrying him to the paramedics as he put on an accent, saying "It tastes like apple juice". He was such a precious person that I still hold dear to my heart. One of my greatest regrets is that I never saw him again.
In 2019 Theo was also suffering from mental health problems and on the 12th of March he passed away. As much as we only met once, a friend and I travelled from Scotland to the funeral in Stoke as he left such an incredible impact on us. His family were so hospitable and just as caring as we attended the funeral. To have this bright ball of light fall to darkness is crushing and I still think about him to this day. I think about the huge turnout at his funeral of those that he touched. I think about his mother who cared for him so much, and his brother and sister who were such a huge part of his life.
I realised I needed to get better, if not for me then for him. The roles here could have easily been reversed. That could have been my brother lowering me into the ground. When I heard about Theo I had also been thinking of taking my own life. I hate that It took a tragedy to bring me out of this slump and begin the journey to revitalise myself.
On the day I heard, I sent him a message on Facebook:
"We only met once a few years ago at a festival but you were such a funny guy.
I don't know about you but I thought many a time of how we could meet up again. The only issue is it wasn't cheap.
We may not have talked much either but after I heard today that really hit home.
You see the thing is I've been going through shit lately too.
A lot of it.
And I don't know what it was like for you or why you were feeling that way but I can imagine it's somewhat similar to mine.
I wish we still talked man.
That way I might have been able to talk you out of it.
Because I know how difficult it is.
I know what it's like to think this way and just want to give up.
That every single day is a struggle and it's like a bug, a virus you just want to get rid of.
I know how it feels.
I'm so sorry to hear you go man I really am.
You were so bubbly and so funny. You had so much potential in life and I sometimes question
why it's always the good people have to go.
There was also another kid who was just the brightest spark. He was always so joyful and happy and was always talking to people. This guy was just a bundle of joy but he had a physical condition that took him all from us.
Why is it all the good people have to go.
I know you'll never get the chance to read this but you'll be missed buddy. I only ever met you once but I'll never forget you.
And when I'm feeling down. When I'm in that place. I'll look to you. I shall think of where you are now in the clouds, what you are doing and I shall use it as a reminder. A reminder to live on for you.
Goodbye buddy.
It's been a good run"
Since then I feel like I have a much better grasp on my own struggles, and understanding of the struggles of those around me in my personal life. Everyone suffers in their own way, and no matter to what degree this is, it is completely valid to feel that way. The most important thing to do is to find the best way for you to cope and live with…well, life. Because at the end of the day there is no cookie cutter solution, and there is a great failure in society of teaching young people that we are all born with the solutions for life. We are not: it is ok to suffer; it is ok to need help. In the digital age we are at the same time connected and disconnected with those close to us and society as a whole. It is important to recognise that it is not a weakness to reach out for help, and that just because someone appears happy on social media they are more than likely struggling with their own problems.
Very recently I had a blip as I started a job which began to set off my anxiety. I could have continued working for these people but to have done so would have been like lifting weights with a bad back. As I was enduring this job, I got word from the Ethos Young Leaders programme.
With the programme I was given an opportunity I didn't expect. Getting in was difficult due to issues with DWP but Ethos kept in touch and didn't forget about me as I fought my case to get another chance at a Kickstart work experience. Finally I was accepted and was able to find an engaging job, tailored to explore and develop my core skills. It has really helped me find my place. I was able to build on skills I had, such as multimedia, whilst dabbling in new fields like business development and project management. I was also given space to explore other young leader's journeys and share my own – hence writing this blog.
Nowadays I have found a place of comfort. I live rather harmoniously with my mental health problems and instead of fighting with the tide, I learnt to swim. I look back on these two key moments of my youth and will forever remember them. They were hard, even crushing at points, but I now know mental health is just as important as physical health.
Mental health affects everyone. It can come in all forms and hit you when you least expect it but it's always there and you have to look after it. It can often be hard and seem like it's inescapable but giving up will never get you anywhere. Take the hit, but get up. Always get back up.
This pit may feel like it's consuming you and that there is no other solution – but I hope my story shows that with time and hard work there is always a brighter day ahead. Speaking to people and letting it out is the first step on your journey, so I implore you to speak to someone. You are precious and don't ever think otherwise.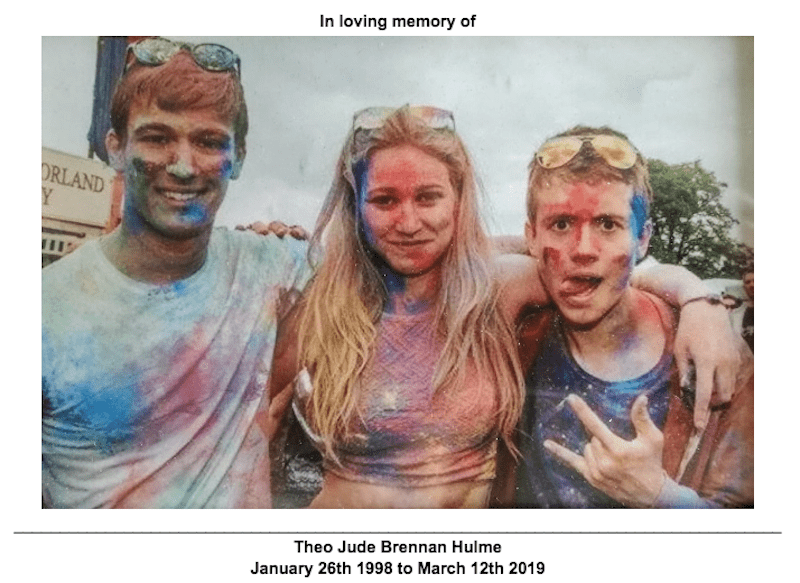 If you have been affected by any of the topics in this piece here are some resources to find access to professionals who can help you:
Mind 0300 123 3393
Mind is a charity providing mental health support throughout the UK
Provides an information and signposting service. Open 9am to 6pm, Monday to Friday (except for bank holidays).
Ask about:
24 HOUR SUPPORT LINES
Shout 85258
Shout provides free, 24/7 text support for young people across the UK experiencing a mental health crisis.
Text YM to 85258.
All texts are answered by trained volunteers, with support from experienced clinical supervisors.
Texts are free from EE, O2, Vodafone, 3, Virgin Mobile, BT Mobile, GiffGaff, Tesco Mobile and Telecom Plus.
Texts can be anonymous, but if the volunteer believes you are at immediate risk of harm, they may share your details with people who can provide support.
Opening times: 24/7
Childline 0800 11 11
If you're under 19 you can confidentially call, chat online or email about any problem big or small.
Sign up for a free Childline locker (real name or email address not needed) to use their free 1-2-1 counsellor chat and email support service.
Can provide a BSL interpreter if you are deaf or hearing-impaired.
Hosts online message boards where you can share your experiences, have fun and get support from other young people in similar situations.
Opening times: 24/7
NHS Urgent Mental Health Helpline England
Offers mental health support and advice, help to speak to a mental health professional, and can arrange an assessment to help decide on the best course of care.
Opening times: 24/7
Samaritans 116123
Whatever you're going through, you can contact the Samaritans for support. N.B. This is a listening service and does not offer advice or intervention.
Opening times: 24/7
Rehab Recovery
A specialist addiction helpline for those suffering with substance misuse and mental health challenges. Offering drug detoxification and drug rehabilitation.
Telephone: 0800 088 66 86
Website: https://www.rehab-recovery.co.uk/