Ethos Partner Rory Maxwell recently presented the Ethos Place InDependAbility solution to Thames Valley Smart City Cluster via an online conference.
Speaking to the conference Rory Maxwell said,
"InDependAbility provides a simple way for people with mobility challenges to plan their journeys with confidence, safe in the knowledge that they can use the service without difficulty or compromise, and travel independently."
InDependAbility is a government-funded project to enable greater use of public transport by vulnerable members of the local community in Bracknell Forest. The system has been developed by members of the Ethos Smart ventures team using Internet of Things (IoT) technology.
The second phase of the project was executed over 2020 – despite all the difficulties and limitations of the Covid-19 pandemic.
The development of the technology answered needs identified by an earlier research phase into the attitudes of vulnerable adults to public transport. It showed the main barrier to engagement was a lack of information about the availability of buses, and whether they would be crowded or had disabled spaces free.
The Ethos Place team research also revealed that older and more vulnerable people are less likely or able to use mobile apps, so the InDependAbility solution uses a tablet, not a mobile phone. This large and clear in-home display feeds live easy to access information at the touch of a button.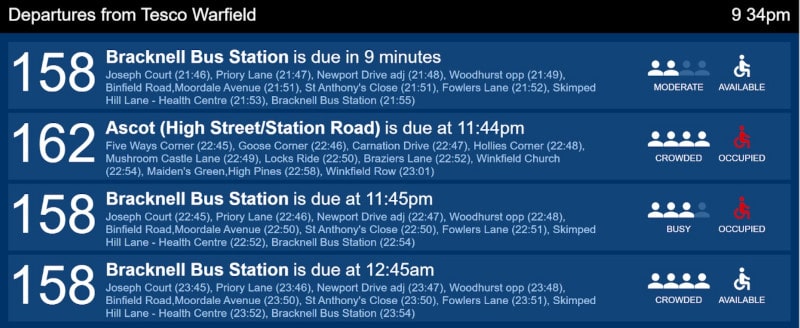 Elderly and vulnerable users find in-home displays on a tablet easier to use than mobile phone applications
The technology was proven to provide a way for people to see when buses are due and how busy they are. It is the Ethos Place team's hope that the solution could be scaled up to make life easier for millions of vulnerable adults who need access to affordable public transport services in the UK or anywhere else.
Rory concluded,
"Existing local dedicated transport services usually require advance booking and can incur significant costs to local councils, charities and the user. This is a simple solution that can cut costs and promote inclusion."
InDependAbility was supported by the Smart City Cluster – a two year £1.73m Internet of Things (IoT) project which was funded through a Local Growth Fund capital grant from Thames Valley Berkshire Local Enterprise Partnership. The project, led by Reading Borough Council on behalf of the Berkshire Unitary authorities of Reading, Wokingham, Bracknell and West Berkshire, demonstrated how technology solutions can meet real-world challenges in delivering public sector services.