With collaborative platforms, mobile, BIM, 'Big data', the 'internet of things', we are tinkering with enablers of change. "Digital Built Britain" envisages entirely new business models for the industry currently known as construction.
21 years (and more) of industry reports
While some industry sectors have changed profoundly in recent decades, some have remained resistant to change. The UK construction industry, for example, has for decades been recognised as overly-complex, fragmented and price-fixated in its procurement approaches, adversarial in its supply chain relations, wasteful in its project execution, conservative in its adoption of new technologies, and short-termist and reactive in its approach to human skills development and R&D.
Such issues have been debated many times in a sequence of industry reports stretching back to World War 2: Simon, Emmerson, Banwell, Latham, Egan …. The ripples of the 1994 Report by Sir Michael Latham continue to be felt, not least because it stimulated some changes to procurement (we started to talk about strategic partnering and frameworks), and the change potential of IT was eventually picked up by Sir John Egan in his 2002 report Accelerating Change, and later championed by the first chief construction advisor, Paul Morrell from late 2009 onwards.
By this stage, the global financial crisis was scything through weak companies, projects were being moth-balled or cancelled altogether, thousands of workers lost their jobs, and the industry was desperate to find positive routes forward. Morrell responded to the challenge. Low Carbon Construction (2010) set the foundations, then the 2011 Government Construction Strategy instigated a more wide-ranging set of measures.
To many, this has all been about building information modelling (BIM), but it also created the conditions to test new models of construction procurement. Much of the endeavour, however, has remained siloed. To deliver the latest industry strategy (Construction 2025, published in 2013), we need to break down these silos, build on the progress made during the recession (lessons learned are being forgotten and businesses are 'reverting to type'), and ensure they extend beyond just the progressive fringe.
'Disruptive' trends
The web, broadband and Software-as-a-Service (SaaS) have all helped change perceptions about technology and information management (a once paper-centric industry is moving more online). Information mobility has been a factor since the advent of smartphones (c. 2007) and tablets (c. 2010). BIM has, of course, been an increasingly dominant theme over the past five years and is set to continue as the government's 2016 mandate comes into effect; social media has – maybe somewhat grudgingly – begun to challenge existing models of communication; and we have also become more aware of the power of data –  'Big data', interoperability, linked open data, and outputs from the 'Internet of Things' (in short, some of us are no longer document-centric but data-centric).
However, these technological changes are not, on their own, going to overhaul the construction industry. They are, at best, enablers. We also have to tackle the existing siloed structures, attitudes, cultures and resulting behaviours within the industry. These are holding back business; they helped create the industry's poor reputation, and this reputation makes construction less attractive to potential home-grown employees at a time when there are deep skills shortages and the existing workforce is ageing.
The future direction and shape of the industry currently known as construction is more likely to be influenced by political, economic, social, legal and environmental factors. Globalisation, carbon, population growth and resource shortages will have an increasingly important and direct bearing on what industry clients identify as desirable business outcomes, making them more alert to whole-life performance and to wider business, social, economic and sustainability outcomes.
New business models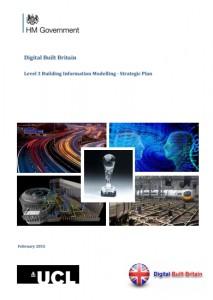 Digital Built Britain, published in February 2015, is therefore a key document. It synthesises four industry strategies: Construction 2025, Information Economy, Smart Cities, Business & Professional Services; it tells a wider audience than construction that it needs to build and exploit a "new digital economy". It talks about the need for:
New ways of doing things
New business models
New business relationships
New institutions
New performance metrics
This fits with the Ethos VO view and with Constructing Excellence's vision which says delivering 'best practice' is not enough. The successful businesses of tomorrow will break through the current industry ceiling, making radical changes and building collaborative business relationships so they can deliver exceptional performance: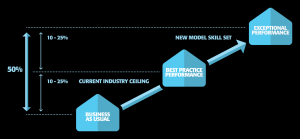 BIM, mobile and data are part of this picture but only as enablers. Over time, they will become normal – as much part of the way of doing things as CAD, spreadsheets and email. Supply chain organisations in the industry currently known as construction will be rationalised and more integrated, transformed into providers of leaner, safer, lower-carbon and data-supported "asset services" (delivering 'illumination', not light fittings, for example – "Buildings-as-a-Service", BaaS perhaps), rewarded across the life-cycle for the value delivered by the built assets they create, and having the reputations and market valuations more commonly found among sophisticated manufacturers.
And workers will be rewarded for their value-adding contributions; many will be recruited and trained to apply their skills in off-site manufacturing facilities; there will be a more strategic and long-term view of employment supply and demand (managed through platforms such as Ethos's SkillsPlanner project), and new professions will emerge as we start to exploit the rich data opportunities of Future Cities.
This is not achieved by focusing on technology – it is achieved by radically overhauling existing structures, processes and cultures, driving out waste, creating collaborative business relationships (both corporate and interpersonal) that nurture innovation, and having supply chains focus on what delivers best whole life value.