We specialise in bringing transformational thinking and a range of new technologies, including open and linked data, together to create exceptional project outcomes.
Linked Data is a method for publishing structured data in a way that makes it amenable to semantic queries. Unlike a traditional database system the platform has no fixed schema, making it easy to accommodate new data requirements, facilitating both data integration and flexibility in presenting data.
Our Ethos Smart & GEOmii projects enable city authorities, enterprises and individuals to work together to integrate key services, optimise resources, and reduce costs, energy and carbon footprint. Using innovative thinking and technologies including Linked Data, semantic web, sensors, apps and the cloud we develop and deliver solutions such as the GEOmii Parking app.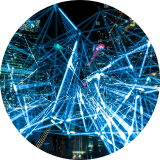 In addition, the key product of our 2-year Innovate UK SkillsPlanner R&D project is a linked open data platform that can aggregate and analyse data from a variety of different sources. This was piloted in the London construction ecosystem, where skills gaps are significant, and allowed employers and skills providers to share the data that makes meeting future employment needs possible.